Title:
Devil's Game
Author:
Joanna Wylde
Genre:
Contemporary Romance, Erotic Romance (18+)
Publication Date:
June 3, 2014
Series Info:
Book 3 in the Reapers Motorcycle Club series
Cover Artist:
Tony Mauro
/
Cover Designer:
George Long
Who/What/Why/Where/How:
Enjoyed the hell out of Reaper's Property and Reaper's Legacy, books 1 and 2 in the series.
Where to Buy:
Amazon
Liam "Hunter" Blake hates the Reapers MC. Born and raised a Devil's Jack, he knows his duty. He'll defend his club from their oldest enemies—the Reapers—using whatever weapons he can find. But why use force when the Reapers' president has a daughter who's alone and vulnerable? Hunter has wanted her from the minute he saw her, and now he has an excuse to take her.

Em has lived her entire life in the shadow of the Reapers. Her overprotective father, Picnic, is the club's president. The last time she had a boyfriend, Picnic shot him. Now the men in her life are far more interested in keeping her daddy happy than showing her a good time. Then she meets a handsome stranger—a man who isn't afraid to treat her like a real woman. One who isn't afraid of her father. His name is Liam, and he's The One.

Or so she thinks.
Review:
I would like to start this review with a letter to Joanna Wylde.
Dear Ms. Wylde,
If I ever get the opportunity to meet you IRL, it's probably going to look like this:
Or perhaps something like this: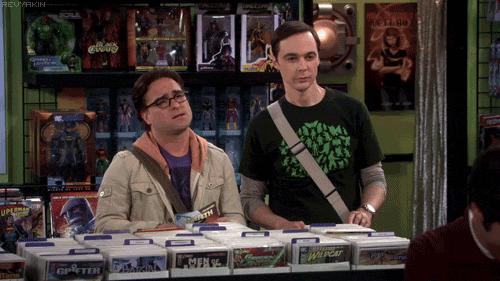 I'm obviously Sheldon in this scenario
I enjoyed the hell out of
Devil's Game
. Thank you for writing this book. You. Are. Awesome.
One of your many fans,
Jen
*ahem*
So, yeah. I really, really really liked reading Em and Hunter's story. It's definitely on my top 10 of favorite books I've read this year. Their story kind of runs concurrent with Ruger's book,
Reaper's Legacy
. So I'm going to avoid the plot. Actually this isn't going to be much of a review. I'm simply going to tell you to stop reading this and go buy these books. Unless gritty, erotic, violent MC stories aren't your thing. Then definitely skip this series. It's NOT for you. For those who do, I hope you enjoy the ride. *evil grin*
Favorite Scenes/Lines:
Em's first day of high school. Reapers style:
"Glad to hear it," Dad replied. He leaned over and kissed the top of my head, then spoke so loud his voice practically echoed. "Enjoy high school, princess. You let me know if any of these guys give you shit, got?"

I nodded, praying for death. Something fast, merciful. Aneurysm? Yeah, that'd do it.

"Just go," I whispered.

"I'll see you tonight," he replied, then turned and sauntered down the hallway, the colors on his back a grim reminder to everyone who saw us that my dad was president of the Reapers motorcycle club.
Thought Hunter has while watching Em:
She held my gaze for long seconds, taking another slow drag and blowing out a smoke ring. A fucking smoke ring. Somewhere in the back of my head, I heard the theme from The Good, the Bad and the Ugly playing.

Liam "Hunter" Blake was about to be shot dead by a cliche.
Em's response to Hunter's MC president:
"I'm Burke," the Devil's Jacks president said, stepping forward. "You must be Em?"

I smiled and nodded.

"It's very nice to meet you," I said.

"You're not much, for a girl who causes so much trouble," he said bluntly. "I pictured you with bigger tits."

My smile didn't falter for a minute.

"I'm still saving up for my boob job," I told him politely. "Until then, I'm afraid Hunter's stuck with me like this. On the bright side, I give excellent head. He had to pay my father six whole goats for me, you know."

Hunter choked, but Burke burst out laughing. Skid's eyes widened, and he gave me a sly nod of approval.
Series Info:
Reaper's Property
Reaper's Legacy
Devil's Game
Reaper's Stand
Reaper's Fall (November 10, 2015)
Stalk the Author:
Website
|
Twitter
|
Goodreads
|
Facebook
Also Reviewed By:
Shayna Renee's Spicy Reads
(5/5)
The Book Vixen
(4.5/5)
Dear Author
(B+)
Smexy Books
(B)